JANUARY, 2017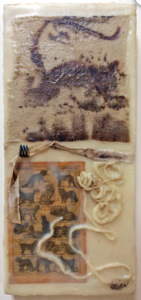 NOW & THEN
HGA artists 10 Anniversary
Jan 24, 2017 – Feb 19, 2017
Open­ing Recep­tion: Jan 27th, 6-9pm
Mem­bers of the Hills­bor­ough Gallery of Arts are cel­e­brat­ing their 10th Anniver­sary by invit­ing all artists who have at one time been a mem­ber to bring a cur­rent art­work into the gallery for our Fea­tured Exhibit this month. 
Opened in Sep­tem­ber of 2006 by 15 artists with lit­tle busi­ness expe­ri­ence who barely knew each other, the gallery was a leap of faith. Over the years the gallery has enlarged its space and taken in new artists and is now run by 21 mem­bers — equal part­ners who make most deci­sions by con­sen­sus. Fea­tured artist shows, group shows, and juried shows cre­ate a strong rela­tion­ship between the artists and the sur­round­ing com­mu­nity. Now & Again, the lat­est group show, is HGA's way of cel­e­brat­ing with all of the tal­ented artists and friends who have made the gallery a suc­cess. Now & Again will run from Jan­u­ary 25 through Feb­ru­ary 19th with an open­ing recep­tion on Jan­u­ary 27th 6 – 9 pm.
---
FEBRUARY
ALL ABOUT THE STORY

LAST FRIDAY, February 24th, 2017, 6-9 pm. 
Featuring the gallery's artists responses, in their own mediums, to the story, Out of Abaton, by John Beamis.  The show runs February 20 through March 26.  Opening reception on February 24 from 6 – 9 pm.  Reading by John Beamis – Sunday, March 5 from 4 – 6 pm.,/p>
---
MARCH


NC THERAPEUTIC RIDING CENTER
INTRODUCTORY DRAWING/PAINTING WORKSHOP
Lobe & Engler will be conducting a painting workshop using the Drawing on the Right Side of the Brain technique for the NC Therapeutic Riding Center on Nick's Road in Mebane. A photo of a horse will be chosen and altered to a line drawing, where everyone will learn how to see and draw edges, lines, curves in spatial relationships.  Read about the Riding Center click HERE.
---
MAY
SPRING SHOW AT JILL TROUTMAN GALLERY
May 5, 6-8, May 6, 10-5 pm & May 7, 2017, 1-5 pm

Read Press Release
Every year, fine art artist, Jill Troutman, opened her home for a spectacular art exhibit. This year Jill has opened Jill Troutman Gallery along with her home for the SPRING FLING.  She invited me, along with eight other artists and Once Upon a Chocolate to show with her.
Along with Jill and myself, the other artists includes Milton Hall, Martha Hamblin, Susan Hope , Betty Tyler students, Sandra King, and emerging artists, Susan Patton and Charly Windsor.
The show takes place on a Friday evening, Saturday, and Sunday. Her beautiful gallery is located in Mebane, NC. Please email me from my Contact page if you would like a postcard invitation sent to you. Come enjoy the beautiful art, great food, and melodious music.
Visit website: Jill Troutman Gallery.
---

EARTHworks
Hillsborough Gallery of Arts
Opening: Friday, May 26, 2016  6:00 – 9:00 pm
Read Press Release: TBA
Garry Childs, Chris Graebner and myself will be exhibiting new works at the Hillsborough Gallery of Arts.
Hillsborough Gallery of Arts is located at 121 N. Churton St., Hillsborough, NC 27302. They are celebrating their 10th anniversary of being in business this year. They are owned and operated by local artists and represent established artists exhibiting modern and contemporary fine art and fine craft.
---
JULY

86 North Main Street
Waynesville, NC 28786
828.452.0593
I am happy to be exhibiting in the MEMBERS SHOW in the month of July. I will have two pieces in the show. The town is Waynesville. A charming sort of mini Asheville. Has great farm to table restaurants, Mast General Store and many more curiosity shops and galleries. click on Haywood County logo to visit their site.
---
OCTOBER

CAROL ENGLER & JUDE LOBE
UNWRITTEN THOUGHTS: An Exhibit of Art. OPENING RECEPTION
Friday, October 27, 5:30 – 8 pm
Carol Engler and I will be exhibiting at the new Stokes County Arts Council Center in Danbury, North Carolina. There will be a variety of sizes of encaustic paintings, cold wax & oil, oil on linen, acrylic on canvas paintings and clay pieces available for sale.
---
---
DECEMBER

CHRISTMAS AT CAPTAIN WHITE'S
30th Annual Holiday Gift Invitational
Sat., Nov. 18th through Sat., Dec 23, 2017
I will be one of many artists displaying fine art and fine crafts at the Alamance Arts Council for the holidays. Come see the beautiful art and decorations in this lovely historic house. Alamance Arts Council.
_______________

7th ANNUAL TONY SNOW Juried Exhibition
226 East Main St., Yadkinville, NC.
Dec 1, 2017 – Jan. 26, 2018
Opening Reception, Dec. 1, 2017, 5:30 pm.
My work, Region in My Mind, was accepted in the Tony Snow Juried Exhibition this year and I am proud to be included with so many high caliber artists.