JANUARY, 2018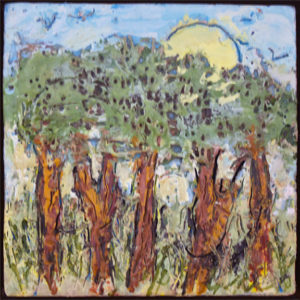 C-NOTE
HGA artists GROUP SHOW
Jan 22, 2018 – Feb 18, 2018
Open­ing Recep­tion: Jan 26th, 6-9pm
Mem­bers of the Hills­bor­ough Gallery of Arts are offering all the paintings in the Featured Exhibit room for $100 each.
One of my paintings that will be in this show is on the left, called Best Friends Forever. These were two horses I happened  by in Mebane when I was picking up some hay bales.
---
FEBRUARY
ALL ABOUT THE STORY

A Broom of One's Own
LAST FRIDAY, February 23rd, 2018, 6-9 pm. 
Featuring the gallery's artists responses, in their own mediums, to the story, A Broom of One's Own by Nancy Peacock.  The show runs February 19 through March 25.  Opening reception on February 23rd from 6 – 9 pm.  Reading by Nancy Peacock – Sunday, March 11 from 4 – 6 pm.
---
MARCH


NC THERAPEUTIC RIDING CENTER
INTRODUCTORY DRAWING/PAINTING WORKSHOP
Lobe & Engler will be conducting a painting workshop using the Drawing on the Right Side of the Brain technique for the NC Therapeutic Riding Center on Nick's Road in Mebane. A photo of a horse will be chosen and altered to a line drawing, where everyone will learn how to see and draw edges, lines, curves in spatial relationships.  Read about the Riding Center click HERE
---
JUNE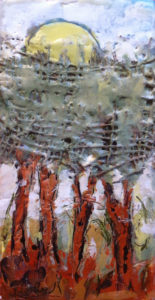 ART AFTER DARK
First Fridays in Waynesville
Cedar Hill Studio & Gallery
196 N. Main St., Waynesville, NC
Art After Dark is a gallery crawl each first Friday throughout the summer. 6pm – 9 pm.
I will have Encaustics and wall sculptures displayed.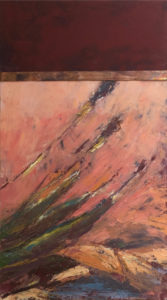 MINDFULNESS
Hillsborough Gallery of Arts
Opening: Friday, June 29th, 2018  6:00 – 9:00 pm
Read Press Release: TBA
Eduardo Lapetina, Jason Smith and myself will be exhibiting new works at the Hillsborough Gallery of Arts. Eduardo is an abstract painting and Jason is a metal sculptor.
Hillsborough Gallery of Arts is located at 121 N. Churton St., Hillsborough, NC 27302. They are celebrating their 10th anniversary of being in business this year. They are owned and operated by local artists and represent established artists exhibiting modern and contemporary fine art and fine craft.
Painting at left is Tranquility, Cold Wax & Oil, 18X32 on cradled board.
---
AUGUST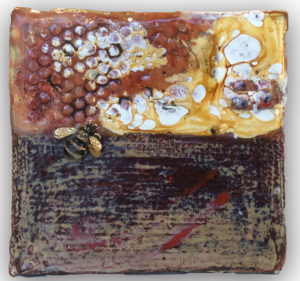 OPENING at FINE & FOLK ART
116 Clay St., Mebane, NC 27302
Opening Reception Aug 3rd, 5 – 7 pm.
Located in the thriving neighborhood of historic downtown Mebane, Fine + Folk Art Carolina exhibits and sells contemporary art for businesses and residences.
art gallery offers collectors a wide variety of contemporary art in oil, acrylic, watercolor, mixed media, encaustic, photography, pottery and enamels. There is something for everyone! And, we believe everyone should be able to own an original piece of art.
.
---
OCTOBER

ART EXTRAVAGANZA
Saturday, October 20, 10 – 5 pm
Sunday, October 21, 12 – 5 pm
I will be exhibiting at Alamance Artisans ART EXTRAVAGANZA held at the Vailtree Event Center in Graham, NC. DIRECTIONS. There will be over 30 artists exhibiting under one roof. There will be exhibitors demonstrator their crafts, raffles and fun. Click here to see some images of 2017's Extravaganza.
___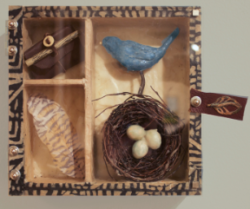 HAYWOOD ARTISTS STUDIO TOUR
October 26-28, 10-5pm
Website
---
DECEMBER

CHRISTMAS AT CAPTAIN WHITE'S
31st Annual Holiday Gift Show
TBA
I will be one of many artists displaying fine art and fine crafts at the Alamance Arts Council for the holidays. Come see the beautiful art and decorations in this lovely historic house. Alamance Arts Council.
___________________________________________________________________________________________________________

7th ANNUAL TONY SNOW Juried Exhibition
226 East Main St., Yadkinville, NC.
Dec 1, 2017 – Jan. 26, 2018
Opening Reception, Dec. 1, 2017, 5:30 pm.
My work, Region in My Mind, was accepted in the Tony Snow Juried Exhibition this year and I am proud to be included with so many high caliber artists.