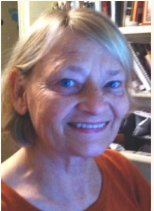 On becoming my own mentor
The idea of us not just being a part of nature, but connected in some way through a primal web of energy intrigues me and feels calming. It makes such sense to me. How else can one explain how we feel the same awe when watching a sunset, or feel anguish when we see someone in pain, or get teary-eyed at a wedding.

It's these recognizable but intangible feelings and emotions that I want to convey in my artworks. Sometimes they will take the shape of a familiar scene, other times they may be exhibited as an abstract. I consider myself a contemporary mixed media artist, working in cold wax, oil, encaustic, enamel, pottery and pottery with encaustic. My process is a method of building and deconstructing. I like mixing mediums and I love textures, which becomes a metaphor for how all things in the universe are interwoven and intertwined.
I have been involved with art in one way or another throughout my life. Presently, I work in my studio built by my husband. The studio has easels, enameling kiln, pottery kiln, pottery wheel, an assortment of paints and mediums, and many other items that encourage me to create.
The studio is open for visitors every day. Feel free to stop by and even pick up a paint brush if you feel so inclined. Just call ahead to make sure I'm in the studio and not out on an errand. 919 two six zero 9889.
You can also view my work at Hillsborough Gallery of Arts.
Awards & National Juried Shows
Region in My Mind • Cold Wax & Oil • Accepted in 7th Annual Tony Snow Juried Exhibition, 2017, Yadkinville, NC.
1st Place – Standing Tall • Oil on linen • Alamance Artisans exhibit at Center for Creative Leadership
Beauty & the Peace • Accepted in Nat'l Juried Show 2015 Bank of the Arts Annual Juried Exhibition
1st Place – Where Buffalo Roam • Enamel and copper • ArtFest 2012 Fine Art Competition
Cedars Watching Sunset • Accepted in Nat'l Juried Show, Dimensions 2012
Collections
Artwork "Ponderings" in Museum of Encaustic Art, Permanent Collection, Cerrillos, NM
Three artworks purchased by Alamance Regional Hospital
Artwork in a Rockefeller family collection
Artwork, "Fiddlin' Joe" purchased by Mebane Public Library
Publications

Featured in Encaustic Art magazine, Spring 2020